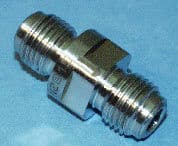 Serving the Semiconductor Industry since 1999
Universal Microsystems
High precision, restrictive flow orifices for
gas flow control




Phone: 408-727-1313
E-mail Us
To Navigate this Page Click on the Subject Below



Contol flow with Pressure
Flow splitting
Backfill a chamber
---
Limit Catastrophic Gas Flows
with
Precision Flow Orifices


Filter/Limiter Combination
Flow limiters can be used to cap the unregulated flow from a gas stick in case of a catastrophic downstream failure. A failure can be due to a line break or a valve in a stuck open position. Without a flow limiter the resulting catastrophic flow can overwhelm the downstream pumping or gas discharge system.

Consider the arrangement shown in the figure which shows a filter, the limiter R and an MFC with the gas outlet. The flow limiter places an absolute cap on the maximum flow through the system set by the line pressure downstream from the filter designated by Pl .

Universal Microsystems and TEM Filter offer an ultraclean filter with a built-in flow limiter. (See Flow Control Filter ). This combination unit is available in the standard lengths used by current filters making for easy retrofit. In addition, models are available in which flow limiter is detachable from the filter. Consequently, if the process should change it is a simple matter to replace the limiter with one having a different value. Moreover, a clogged filter can be replaced without replacing the limiter.

The filters used in these units are either SS or Ni media and suitable for inert and anhydrous corrosive gases. Both filters result in less than 1 particle/ft3 and THC and moisture content less than 10 ppb.